Types of Qualifications Accepted for a CSCS Card
There are different qualifications accepted by CSCS depending on the CSCS card type you are applying for. Generally, CSCS accepts Vocational Qualifications and Academic Qualifications. Let's discuss these qualifications in detail below.
What Vocational Qualifications are Accepted by CSCS?
To get a CSCS card, it's not mandatory to have GCSEs or A-Level qualifications, however, NVQs are accepted. Other than NVQs, there are also other vocational qualifications accepted by CSCS.
Apprenticeships
If you have successfully completed an apprenticeship that has been approved by a body like NJCBI or BATJIC, or an apprenticeship sponsored by an employer that required obtaining an Advanced Craft Certificate from the City of Guilds of London Institute, you can provide this as proof of your qualification when applying for a CSCS card. Having completed an apprenticeship, you can apply for either the Blue Skilled CSCS Card or the White Advanced Craft Card CSCS Card.
National Vocational Qualifications (NVQs)
An NVQ qualification is another route to get into the construction industry. CSCS acknowledges NVQs related to the construction industry as valid qualifications for obtaining a CSCS card. An NVQ is a certified qualification specific to an industry or sector, which teaches practical tasks relevant to the job. It aims to develop job-specific skills required for the field.
Unlike most qualifications that rely on exams, NVQs are evaluated on the basis of practical assignments and portfolios of evidence that students gather throughout the course. An assessor will endorse you for specific NVQ levels if they determine that you have achieved the required standards.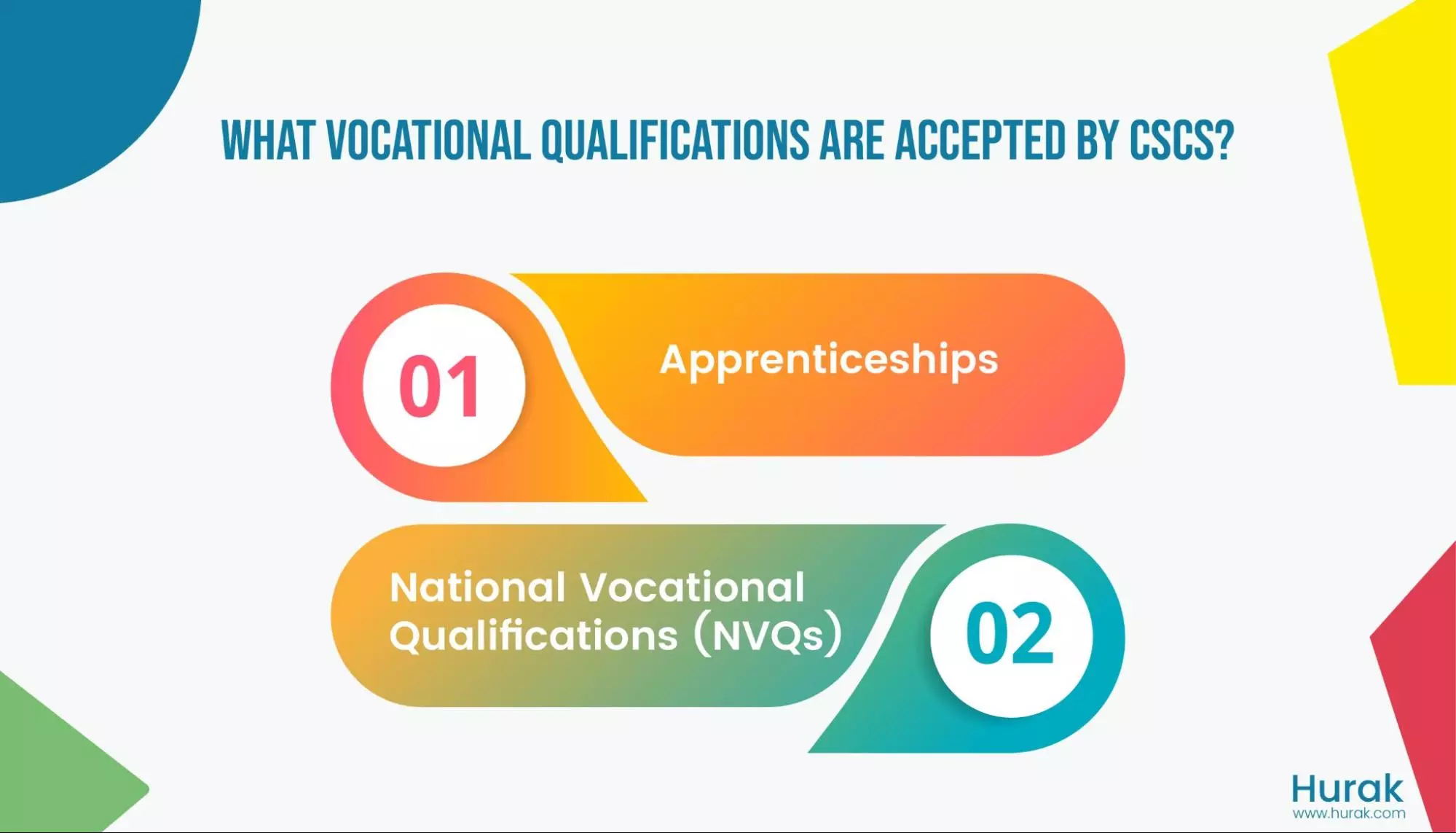 What Academic Qualifications are Accepted?
CSCS also accepts academic qualifications for giving you an AQP Card and a CSCS card. Let's learn more about these qualifications below.
Undergraduate/Postgraduate Degree Certificates
The academic qualifications include a bachelor's at the undergraduate level and a master's and doctorates at the postgraduate level. Before applying for the AQP Card, it is essential to confirm if your degree qualification is accepted by CSCS, as they do not accept all degrees. If your degree qualification is not listed among the approved qualifications, it is recommended to contact CSCS and seek advice on what steps to take next.
Higher National Diplomas (HNDs) / Higher National Certificates (HNCs)
Higher National Diplomas (HNDs) / Higher National Certificates (HNCs) are educational credentials that have a strong focus on vocational or work-related education. A HND corresponds to a Level 5 certification, whereas a HNC corresponds to a Level 4 certification, Both further and higher education institutions offer these qualifications, which emphasise hands-on, practical learning.
If taken on a full-time basis, a HND requires two years and a HNC requires one year. These programs can also be taken part-time. The qualifications are evaluated based on assignments, projects, and practical tasks performed throughout the specified duration of the course. If an individual applies for an Academically Qualified Person Card, HNCs and HNDs in construction-related fields will be taken into consideration.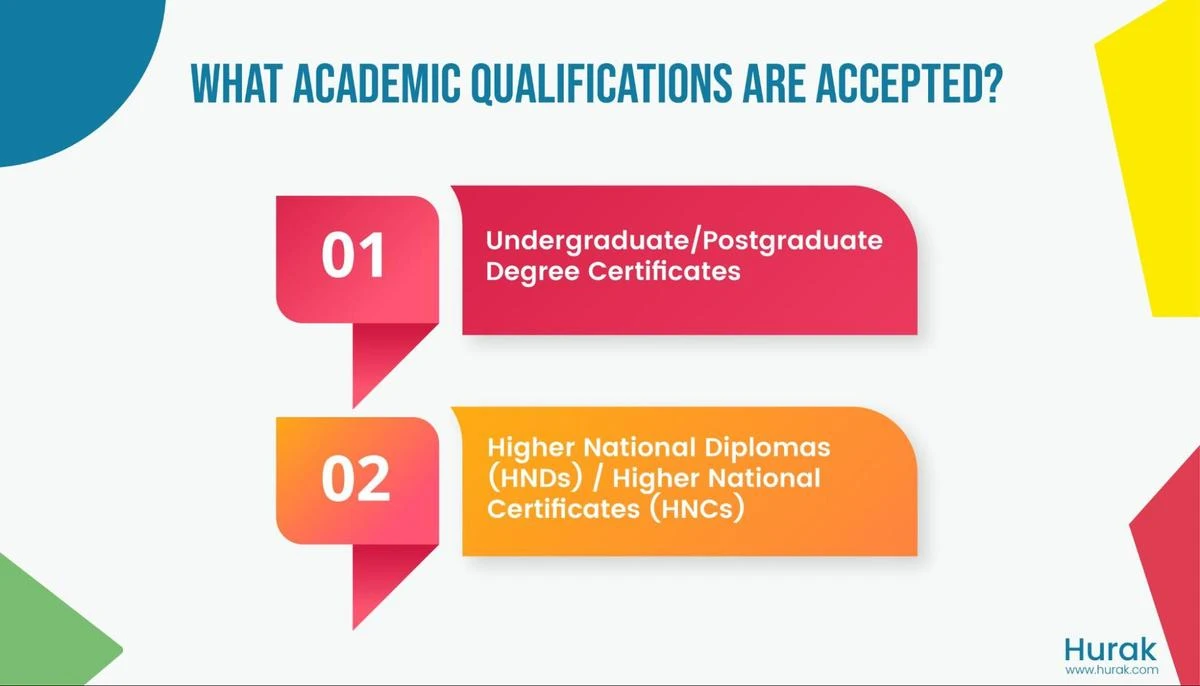 Can a Professional Body Membership be Used as Evidence?
As CSCS accepts membership from certain professional bodies, they can be used as evidence. The Professional Body Membership acts as proof of qualifications for access to the Professionally Qualified Person (PQP) Card. These bodies have their own assessment procedures for membership and their standard is acceptable for getting a CSCS card.
To apply for the Professionally Qualified Person (PQP) card, you need to provide a membership certificate, a photo of your membership card, or an up-to-date confirmation of membership from the professional body.
What About Historical Qualifications?
If you have been away from the construction industry for some time and your qualification is not listed, it doesn't necessarily mean that you cannot get a CSCS card. Instead, you will need to speak with CSCS to determine if your previous qualifications make you eligible for a card. In this situation, you can contact CSCS on 0344 994 4777 to discuss your situation with them.
How Do I Get a CSCS Card If I Do Not Have Any Qualifications?
You can apply for an entry-level CSCS Labourer Card if you have no prior qualifications. In this section, we will look at the several health and safety qualifications recognised by CSCS to get a CSCS Green Labourer Card.
1. Level 1 Award in Health and Safety in a Construction Environment Course
This qualification is open to individuals who have no previous experience in the construction sector. So anyone who wishes to begin a career in construction can go for this qualification. It's a basic and easy training program designed specifically for people with close to zero experience.
The course content provides extensive knowledge on how to maintain a safe and healthy work environment. It covers the legal obligations of a construction site and emphasises the significance of health and safety measures in a construction environment.
This qualification is a route to get a CSCS Labourer Card with no prior experience or qualification. In addition to this qualification, you will need to pass the CITB HS&E test before applying for the CSCS Labourer Card.
As this qualification has no expiry date it is the most preferred option when applying for a CSCS Labourer Card.
2. Site Safety Plus Health and Safety Awareness Course
Another way of obtaining the CSCS Labourer Card is by completing the Site Safety Plus Health and Safety Awareness. It's a one-day classroom-based course which covers various health and safety aspects of a construction site. The course includes various health and safety aspects of a construction site, including personal responsibilities for safety, safety procedures for working at height, legal obligations, manual handling, equipment handling, identifying and preventing common construction hazards, fire prevention, and occupational health.
To get a certificate, you must pass an exam with at least 20 correct answers out of 25 multiple-choice questions.
3. DSA Health And Safety Awareness Course
Another route to getting a CSCS Green Card is a DSA Health and Safety Awareness course offered by the Drilling and Sawing Association. It's valid for three years.
As this is a basic level course, it covers essential topics related to health and safety. Primarily, it enables learners to understand safe working practices in the construction industry. This course assesses learners through a blend of practical assessments and a test paper.
4. IOSH Working Safely Course
This course covers important health and safety measures within the workplace. CSCS no longer accepts IOSH Working Safely certificates if obtained via an online course. They will only accept a face-to-face IOSH qualification. At the end of the course, you will have to complete a multiple-choice examination and a hazard awareness exam.
This is another route in getting a CSCS Labourer Card and starting to work in the construction industry. The course covers important topics related to health and safety measures within the workplace. Over time, CSCS has updated the requirements of different qualifications and for IOSH qualification, it is now mandatory to have a face-to-face or in-class education. Previously, you could obtain IOSH Working Safely certificates by opting for an online course, but CSCS no longer accepts them.
Once you complete the course, you will have to pass a multiple-choice assessment and a hazard awareness exam.
5. Priestman Associates Principles of Construction Site Health and Safety Course
For beginners, labourers, and apprentices in the construction industry, there's a 5-day course offered by Priestman Associates that helps learners understand the essentials of health and safety. CSCS accepts this qualification and you can use it to apply for the CSCS Labourer Card.
6. JTJ Introduction To Construction Course
Another way to secure the CSCS Labourer Card is to take a JTJ Introduction to Construction Course Certificate. If you have a valid certificate, you can apply for the CSCS Labourer Card as it is acceptable by CSCS.
Can I Get Any Financial Assistance Available for Construction-Related Qualifications?
In case you're unable to cover the expenses of acquiring a training certification due to your financial situation, there are some funding alternatives that you can consider. Let's check out the following options that can assist you with funding:
The CITB Levy and Grant System
This system provides grants to individuals who are employed by a construction company paying the construction industry training levy. If you qualify, this system can help you obtain the required qualifications to obtain a CSCS card.
Local Enterprise Partnerships (LEPs)
LEPs work in collaboration with local authorities and businesses to stimulate economic growth and create employment opportunities within a particular region. If you're seeking local funding for job-specific training, LEPs are an excellent resource to explore.
Job Centre
Another way to discover training opportunities and funding options for construction-related jobs and the CSCS card is to speak with a representative at your local Job Centre or one-stop shop. They can guide you to the appropriate sources to apply for funding grants to pursue your desired construction qualification.