Manual Handling Weight Limits for Lifting
There are no set restrictions on how much manual handling and lifting can be done at work because it relies on many variables, including the nature of the task and the worker's unique skills.
Employers are required to take adequate action to minimise the risk of injury caused to employees by manual handling activities to the lowest level reasonably possible under the Manual Handling Operations Regulations (MHOR) 1992. Different weight restrictions and techniques will be needed to achieve this depending on the sort of manual handling activity.
The hierarchy of measures outlined by the MHOR states that production lines and other forms of automation should always be used before manual handling procedures are avoided. If this is not feasible, the responsibility holder must evaluate the hazards presented by manual handling activities at work and decide how to control them. Perform a risk analysis of the manual handling operations as part of this. Then, to lessen the dangers to people's health and safety, they must implement the required safety measures.
During the risk assessment for manual handling, duty holders must take into account the following 4 important factors:
Task – For instance, how much time it will take, how often it will be performed, whether it is repetitive, whether it offers enough time for rest or recovery, and whether it requires twisting, stooping, or reaching upwards. All of these factors may influence how demanding the work is.
Individual – Everyone has different physical abilities and limitations depending on various factors, such as age or physical make-up. New or pregnant mothers, persons with impairments, and people returning to work after an injury may all be particularly at risk. Since no two persons are similar, employers must tailor the work and safety procedures to each employee's talents to ensure that everyone is equally protected from health and safety concerns.
Load – It can be challenging for a person to secure a firm grip and maintain control of the weight if it is too large or bulky, challenging to hold, and has a fluctuating centre of gravity (for example, if it contains liquid). The body might be put under extra stress as a result of this.
Environment – The task will be more challenging and consequently more physically demanding to do, for instance, if there isn't enough room in the area for the person managing the weight to move comfortably, if the floor is uneven or has different levels, or if the person can't see clearly. High workloads, short deadlines, and a lack of control over the task and working methods can all cause psychological reactions that increase the risk for people.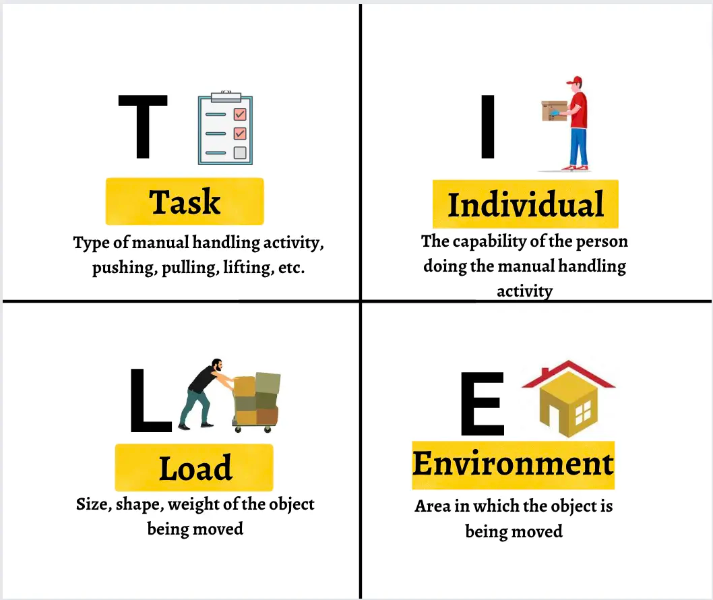 TILE, or occasionally LITE, is the name of these four elements. They are crucial when determining safe lifting techniques and weight restrictions for particular manual handling activities. The MHOR and related HSE manual handling advice publications recommend weight restrictions for lifting, carrying, pushing, pulling, and team actions in light of these variables and other guidance.
This information must be considered in the context of the particular manual handling activities at your place of employment because there is no one size fits all solution. However, the guidelines are helpful resources for the individual in charge of establishing the essential manual handling restrictions.
Safe Lifting Weights
Although the MHOR does not specify weight restrictions, the HSE provides some lifting and lowering best practices. Although the HSE claims they employ "broad assumptions or generalisations where, if met, the risk of injury is deemed to be low," they should not be referred to as "safe limits" because this depends on all the elements involved, as was noted above. Work performed outside these advised ranges is probably more likely to result in an injury.
Based on information from the general population, the HSE's lifting and lowering risk filter specifies overall safe lifting capacities for men and women as follows: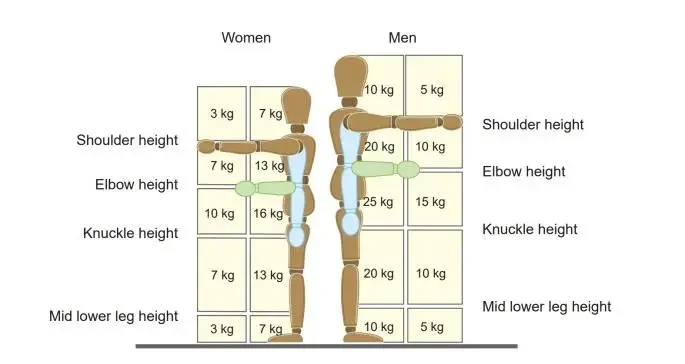 This demonstrates that the average man's safe upper limit for manually handling a load is 25 kg, and the average woman's is 16 kg.
It's important to remember that this only applies if the person carrying the load can hold it close to their body and at knuckle height. It is no longer safe to manage a 25 kg burden if the load moves across the zones, such as when you lift a box from knuckle height to a shelf at shoulder height. The lower weight must be used if the load is anticipated to move across zones while the task is being completed.
The fact that these risk filters only apply to manual handling operations where the load:
Simple to hold in both hands.
Is working under appropriate conditions.
Can be supported using secure lifting and handling techniques with the worker's body in a stable position.
Enables holding against the body.
It is not carried more than 10 metres without stopping.
Does not impede the person's ability to walk normally.
Does not interfere with the carrier's vision.
Requires neither much below knuckle height nor much over elbow height for the carrier's hands.
without having to be hoisted first, it can be safely put upon the shoulder The filter values can be used up to 20 metres in this circumstance.
Certain elements will necessitate a complete evaluation of manual handling activities and possibly differing weight limitations and handling techniques.
For instance, if the weights are greater than those in the risk mentioned above, filter if the handling requires twisting, if there is more than one lift every two minutes, if a team is involved, if the weights vary significantly, if the load is challenging to grasp, and if the person is at an elevated risk (e.g. those with disabilities or a recent injury).